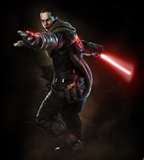 Name:
Jori Lekrif
Callsign/Nickname:
"Jori"

Species:
Zabrak Male


Height:

6'1"


Weight:

120lbs


Hair Color:

Short brown


Eye Color:

Red with Green Tint


Skin Color:

Light Tan

Scars:

On head where horns were cur off


Tattooes:

Facial, black


Homeworld:

Iridonia




Personality:

Fun loving and joyful while relaxed, but completely focused when duty arises. Extremely loyal to the Empire. Wary of strangers but very trusting of friends. Patient. Kind and considerate to those he deems worthy. Unfortunately, very vengeful.

Skills: An accomplished martial artist. Familiar with most weapons though no projectile weapons. Higher than average strength and stamina, able to regulate bodily functions, like controlling heat loss, blood flow, and breath and heart rate, and, very rarely, shut down his entire body for up to two minutes. These abilities are due to the unknown journey through the galaxy he took when he reached adulthood. On that journey, he practiced techniques that he gained on said journey, thereby gaining some control over his body.



Biography:

Jori grew up the son that wealthy parents dreamed of. He was mildly athletic, but also intelligent and interested in the things the wealthy were supposed to be interested in. But inside, he hated all of it, but he loved his parents and wanted to please them. Because of that he grew up with all of the hate bottled up and when he reached adulthood he let it all loose and left the planet to an unknown destination. He returned from that unknown place many years later to discover the Empire had taken over the Republic. He joined to find out just how good a government they really were, but his suspicions were proven false when he saw just how much the Empire cared about its soldiers compared to the way the Republic just sent more and more clone soldiers into the war.